My blog has moved to
http://www.tenderallure.com/
. To keep up with my latest posts, outfits, giveaways, and more, check out my new blog! I would love it if you could joined me at my
new blog
:)
This is a Sponsored post written by me on behalf of
ShopYourWay Program
for
SocialSpark
. All opinions are 100% mine.
Hey everyone!
I recently discovered the
ShopYourWay Personal Shopper Program
, and I wanted to share it with you! It's basically a social shopping program where you can find out about new products and share them with your friends. I think this would be a great way to share your latest finds for new cosmetics! This program has several great features such as a personal shopper, a rewards program, a mobile app, members-only deals, and more.
When you join this program, you can suggest different products to your friends that you think would suit them. For your fashion-loving friends, you can help them find the newest, latest trendy clothes and accessories! You can easily recommend products through your Personal Shopper hompage. Then, if your friends order from
Sears
,
Kmart
,
Land's End
,
Sears Outlet
,
Sears Auto
,
Sears Home Services
, or
mygofer
, you can earn 1% in cash! Another great feature about this program is that your friends can shop online or in stores with their ShopYourWay Rewards cards to earn points and get special offers. This program is so simple and easy to use for you and your friends! Get ready to be engrossed in a world of fashion, style, and fun with your girl friends :)
The sign-up process for the ShopYourWay Personal Shopper Program is super quick and easy. I love how you don't have to answer a whole bunch of questions to get started! All you have to do is:
2. Click on the "Start Earning" link in the ShopYourWayProgram email that was just sent to you.
3. Accept the invitation and follow the steps to complete your profile information.
4. Invite your friends to join.
5. And you're done! Now you are a member of the ShopYourWay family! This is what your screen should look like when you have finished signing up: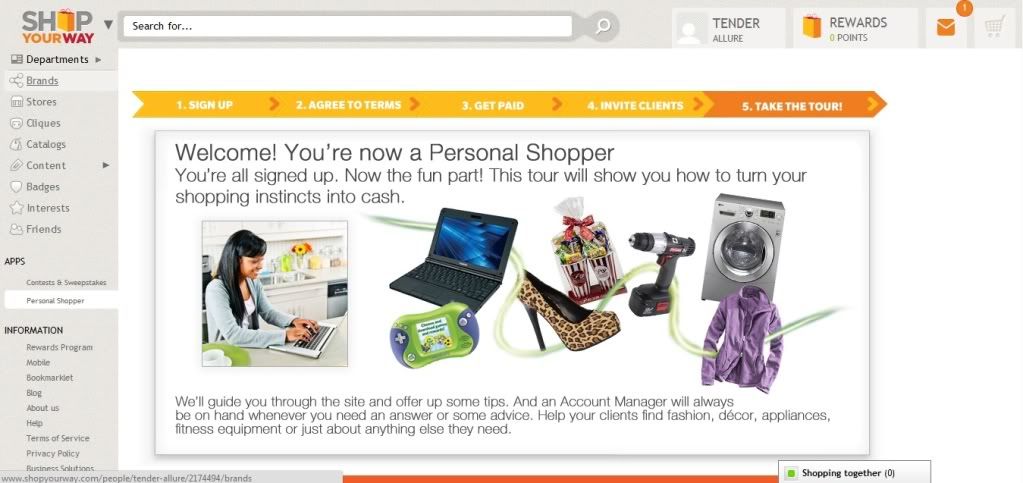 What are you waiting for? Join in on all of the fun by signing up now for the ShopYourWay Program! I'd love to be able to share fashion, new products, and more with you!
Disclaimer: This is a sponsored post written by me on behalf of the ShopYourWay Program. The opinions above are my own and were not influenced in any way.
xoxo,
Linda