My blog has moved to
http://www.tenderallure.com/
. To keep up with my latest posts, outfits, giveaways, and more, check out my new blog! I would love it if you could joined me at my
new blog
:)
Hey everyone!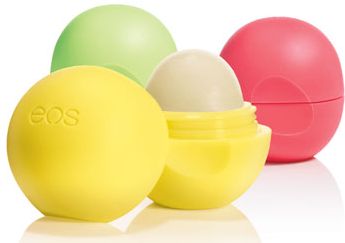 I just ran out of my Chapstick, so I went to Walgreens to pick up a new lip balm. When I was looking around, I saw a really great deal on
eos lip balms
! This week, after factoring in the $2 Register Rewards, you can get them for $0.99 at Walgreens.
I had heard about these lip balms from YouTube gurus, bloggers, and friends, but I couldn't find them anywhere near my house! So, I was extremely excited to find the eos balms when I got back to school from break. I have been dying to try them out because I have heard that they are very moisturizing, and most importantly, they look so cute!
I picked up the balm in Sweet Mint, rushed home, and tore open the package to use it right away! I like the minty smell and how the balm makes my lips tingle when I put it on. I also like how it makes my lips feel smoother and more moisturized right away because it contains shea butter and jojoba oil. These eos lip balms are 95% organic and 100% natural, so I'm happy to know that I'm not putting any weird chemicals on my lips.
On the downside, I feel like I have to reapply this balm very frequently. Also, these balms are quite large in size and don't fit in the little clutch I normally use every day. So, I guess I still need to pick up a smaller lip balm, and I can bring my eos one around with me when I use a larger purse.
Even though I feel like these balms are kind of inconvenient to carry around, I still love the packaging! They are so colorful and have a really unique shape. I'm off to go buy more of these eos lip balms! I want to get some of the other flavors, and I feel like I need backups, just in case I can't find these again.
With my soon-to-be collection of eos lip balms, I won't even need to buy any Easter decorations! :)
I hope you enjoyed this little review. Let me know if you have any questions about this product or requests to review any other products!
xoxo,
Linda